About Dearborn Youth Symphony

The Dearborn Youth Symphony is a thriving instrumental music organization that offer instructional and performance opportunities to youth musicians. Membership is offered through audition and includes elementary through high school students ages 8-18. There are no school or residency restrictions to participate. Currently, over 200 students represent 27 communities throughout Southeast Michigan.
Rehearsals take place on Monday evenings from September through May. Times vary according to the ensemble. Three concerts featuring all DYS ensembles are performed each season, generally in December, March and May.
DYS is a volunteer organization that succeeds through the generous efforts many involved individuals. The Dearborn Youth Symphony is sponsored by the City of Dearborn Department of Recreation and Parks. The home venue of DYS is the Ford Community & Performing Arts Center in Dearborn, Michigan.
Our History
In 1975, Mrs. Pat Daoust formed a group of 30 area musicians on a trial basis, and under the direction of volunteer conductor Danny W. Shaw, the group met on March 17 for the first rehearsal.  It was the beginning of the Dearborn Youth Symphony.
The mission of the Dearborn Youth Symphony is to foster instrumental music and ensemble experience in young performers. DYS has since become an integral step to greater musical achievement for many youth musicians in the Metropolitan Detroit area.
By complementing the musical efforts of our school programs and private instructors, we build more opportunities and greater appreciation for instrumental music in our community.
THE DYS MISSION
The Dearborn Youth Symphony strives to accomplish the following:
Offer classical music performance opportunities to young musicians;
Learn and develop abilities under the direction of professional musicians;
Create a social environment that fosters a lifelong enjoyment and appreciation of the arts;
Provide ensemble experience that complements the training within the school systems, private lessons, and community musical organizations;
Build audiences for classical music and serve as a cultural resource for the region.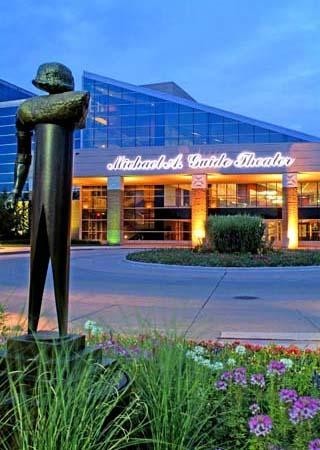 About our Home Venue
The Fords Community & Performing Arts Center
in the Michael A. Guido Theater
Evoking a classic renaissance theatre in a modern environment, our main stage theatre will serve as home to many local arts organizations. With a focus on acoustical and visual properties, the auditorium features beautiful wood and plaster wall panels designed to heighten audience involvement. The auditorium has ample wheelchair seating, elevators to all levels, and an amplified system for the hearing impaired. This 1,201 seat auditorium features the latest lighting and sound systems, and is fully supported by modern scene and costume shops. The theatre is set to support the greatest professional demands while providing a friendly environment for our many local Cultural Arts programs.
| | |
| --- | --- |
| Capacity: | 1201 |
| Phone Number: | 313.943.2354 |
| Address: | 15801 Michigan Ave Ford Community and Performing Arts Center |
Photo © Michael A. Guido Theater
To Learn more about our Home Venue, Visit: http://www.dearborntheater.com