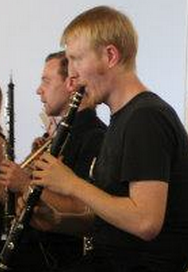 Seth Larson
Concert Orchestra Brass & Woodwinds Mentor
Born and raised in the Detroit area, Seth Larson graduated from Wayne State University with a bachelors degree in music performance and a graduate certificate in orchestral studies. Returning for his fourth year as mentor with the Dearborn Youth Symphony, Seth is a long standing member of the Dearborn Symphony Orchestra currently in his eleventh season. As a freelance musician he is involved with local chamber music ensembles, contemporary arts collaboratives, as well as musical theater and opera productions.  He is also a woodwinds instructor for high school marching band, and throughout the concert season he works as a clinician, sectional coach and private instructor.
Katherine MacKenzie
Symphony Orchestra High Strings Mentor
Katherine MacKenzie is an active freelance musician in the Detroit Metropolitan area.  She maintains a violin performance master's degree at Bowling Green State University, where she studied privately under Professor Vasile Beluska and Dr. Stephen Miahky, and a bachelor's degree from Wayne State University, studying with Detroit Symphony Orchestra violinist Marian Tanua.  At her time at Bowling Green State University, she was fortunate to have a teaching assistantship for a string instrument education class where she learned how to teach beginner level strings to music education majors as well as advancing her pedagogical knowledge under the tutelage of Dr. Elaine Colprit.  Katherine has been teaching violin privately for several years now as well as having the experience of mentoring the Detroit Civic Youth Symphony before taking on the Dearborn Youth Symphony mentorship.  Katherine's versatile teaching experiences also include working with Bowling Green's Children Resource Center, Toledo area high school students, and Blue Lake Fine Arts Camp's Bernstein orchestra.  From time to time, she plays in local orchestras such as the Michigan Philharmonic, the Dearborn Symphony, and Lima Symphony orchestras.
Jennifer Palmatier
Symphony Orchestra High Strings Mentor
Biography to be posted soon.
Symphony Orchestra Woodwinds Mentor
Biography to be posted soon.
Symphony Orchestra Brass Mentor
Biography to be posted soon.