Performance is an important part of the DYS experience.
DYS presents three full-scale concerts per year in the Michael A. Guido Theater of the Ford Community & Performing Arts Center.
These concerts are held in December, March and May of the concert season and generally take place on Sunday afternoons.
All DYS musicians in good standing participate with their ensembles in the performance.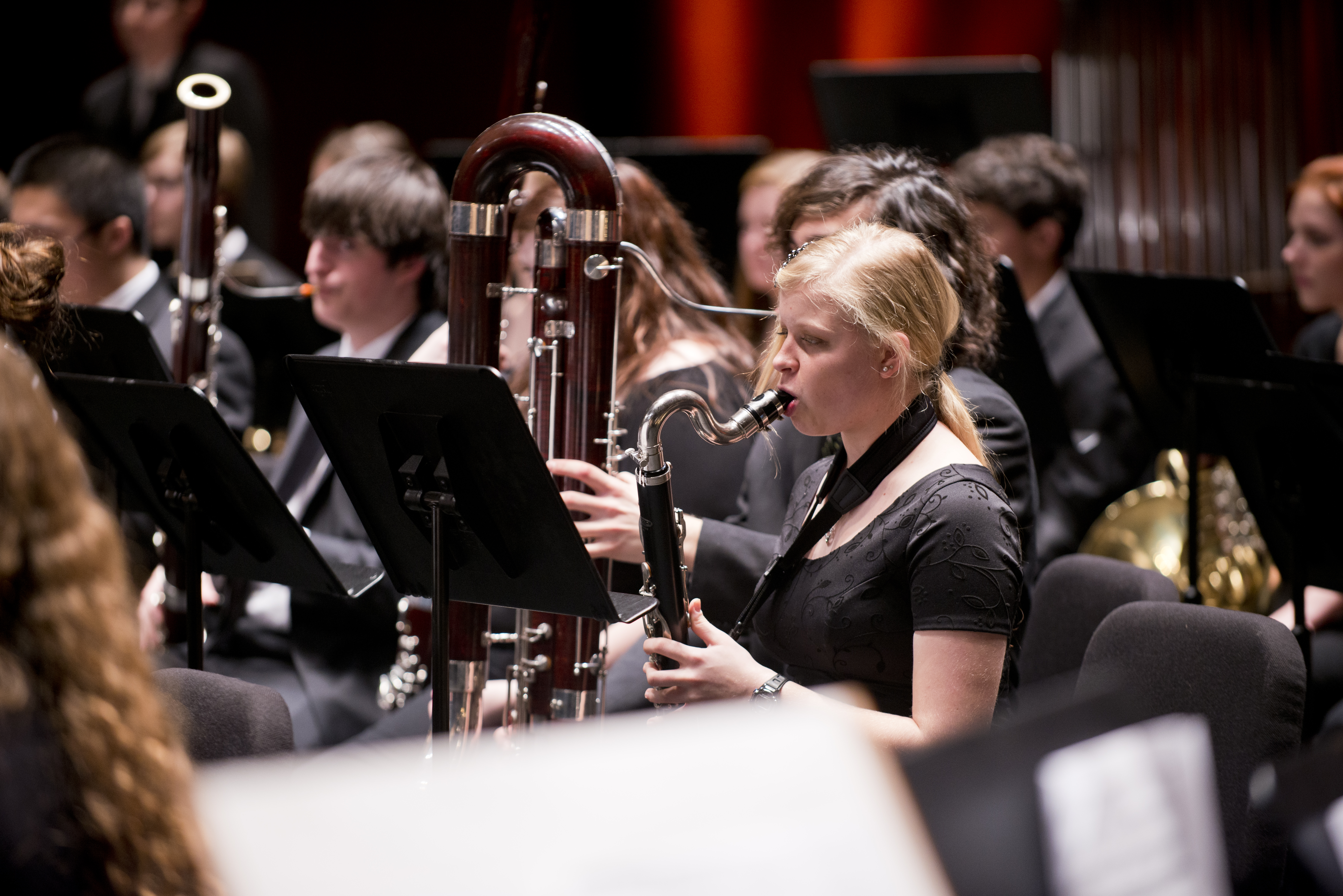 Individual tickets are available through the theater box office. All proceeds go to the Dearborn Youth Symphony. All seating is general admission, and theater doors open 30 minutes prior to the performance.
The Dress Rehearsal takes place immediately preceding the concert and is reflected in the call times. Call times vary according to ensemble. At the designated call times, musicians should be dressed, tuned and sitting in their assigned seat on stage.
Additionally, the March concert includes soloists selected during the annual DYS Scholarship, Solo and Concerto Competition. The Philharmonic Orchestra Concerto recipient performs at the May concert. It is also at this later concert that all scholarship winners are recognized and receive their awards.
2022- 23 Season Concerts
Sunday, December 11th, 2022   
Sunday, March 5th, 2023   
Sunday, May 7th, 2023   
All performances take place at The Ford Community & Performing Arts Center.
Concert Tickets
All DYS concert tickets are general admission. They may be purchased at the Ford Community & Performing Arts box office. Please see details below to learn more.
Call Times
At the stated time, musicians must be in their chairs on stage for a mandatory dress rehearsal. Please plan to arrive in time for any necessary preparations. Call times will be communicated to the musicians via the DYS newsletter, website announcements and Facebook page prior to the concert.
Women
White dress blouse
Black slacks or black skirt (mid-calf or longer)
Black dress shoes
Black tights, stockings or socks.
Black or White Hijab ( If Applicable.)
Solo and Concerto performers may select appropriate (no short skirts for females) semi-formal to formal attire to wear for their performance and corresponding concert.
Men
White dress shirt tucked in with collar
Black bow tie
Black dress slacks
Black belt
Black socks
Black dress shoes
Philharmonic Orchestra and Flute Choir ONLY
Women
Ankle length black skirt, black dress pants or long-sleeve (wrist length or ¾ length sleeve) dress
Black dress blouse, long-sleeved (wrist length or ¾ length sleeve)
Black nylons, tights or socks
Black dress shoes
Black Mask and Black Bell Cover (Optional)
 Black Hijab (If Applicable.)
Minimal or no jewelry
Men
Black pants
Black dress shirt
Black sports or suit coat
Black tie 
Black socks
Black Mask and Bell Cover (Optional)
Black dress shoes
For all ensembles: Clothing should be clean and pressed.
Hair should be out of the face. 
No t-shirts, jeans, cords or cargo pants, flip-flops, tennis shoes, hats, head bands, or scarves. 
No pins, hats, sequins, rhinestones or similar accessories.
No sleeveless, short sleeve, strapless, spaghetti strap, halter or backless dresses or blouses, short skirts or skirts with side slits higher than the knee, jeans, hip-hugger pants, crop pants, low-cut tops or dresses.
Volunteer Schedule
Volunteers are an integral part of the logistics and very important to the success of DYS concerts. They fulfill roles that include hospitality setups, stage setups, musician supervision, ushering and more. When available, the volunteer schedule will be posted.