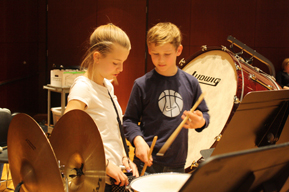 DYS musicians have proven to be some of the strongest supporters,
and often recruiters, of the organization.
The Bring A Friend Program enables them
to invite friends that can personally experience
what DYS has to offer without any pressure to commit!
Dates
The Bring A Friend Program is held during designated rehearsals, generally when conductors are introducing new music for the following concert. There are three dates per concert season.
The Bring A Friend dates for the 2019/2020 concert season are:  September 23rd 2019 , December 9th 2019, & March 2nd, 2020.
What to Bring
Friend musicians must bring their instruments and register as a guest. For their communication efforts, the host DYS musician receives a gift card from one of many retailers, regardless of whether or not the Friend musician joins an ensemble.
What to Expect
Friend musicians accompany their DYS host musicians to their ensemble. If they play the same instruments, they will sit next to one another. Otherwise, they will be assigned a chair in the appropriate section. Since new music is generally distributed at these rehearsals, a Friend musician will experience the same introduction to the upcoming concert pieces.
Frequently, the Bring A Friend program falls on the same date as a Pizza Party. The rehearsals are shortened for this event, and of course, the Friend is invited to participate in this popular social occasion.
Potential Membership
For Friend musicians interested in joining DYS, an audition is scheduled for the following rehearsal. If accepted and a chair is available, the musician may become a member immediately. Otherwise, the friend will be placed on a waiting list. Tuition is pro-rated throughout the season.